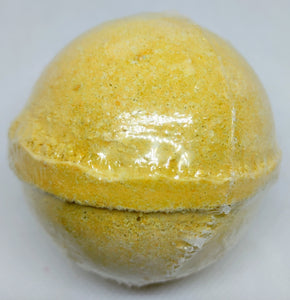 Sandalwood Bath Bomb
Indulge in a luxurious bath experience with our handmade bath bomb, Sandalwood. Infused with the warm, rich aroma of sandalwood, this bath bomb offers a relaxing and rejuvenating experience that is perfect for unwinding after a long day.
Crafted with natural, high-quality ingredients, Sandalwood is carefully handmade to provide a pampering experience like no other. 
The warm and woody scent of Sandalwood is known for its calming and grounding properties, making it the perfect choice for unwinding and reducing stress. The combination of aromatherapy and skin-softening ingredients makes this bath bomb a luxurious treat that your body and mind will thank you for.
Experience the ultimate relaxation with Sandalwood, our handmade bath bomb that offers a sensory escape from the hustle and bustle of daily life. Whether you're treating yourself or someone special, Sandalwood is the perfect choice for a soothing and indulgent bath time ritual.
Our bath bombs are about the size of a tennis ball and give you loads of fizz and a nice scent so good you won't want to get out of the tub until the water turns icy-cold!
Ingredients: 
Sodium Bicarbonate (Baking Soda)
Citric Acid
Fragrance Oil
Sunflower Oil
FD&C Colorant
Cosmetic Glitter
4.5oz