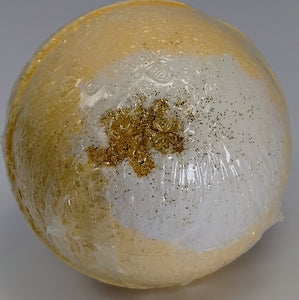 Sunshine Bath Bomb
Introducing our handmade bath bomb, Sunshine, a refreshing and invigorating creation that will bring the bright and zesty citrus aroma to your bath time! Our bath bomb is lovingly crafted to emit a delightful scent of grapefruit and tangerine, for a refreshing and uplifting fragrance that will invigorate your senses.
As you drop the Sunshine bath bomb into your tub, you'll notice a burst of vibrant colors and swirling patterns, creating a mesmerizing display. The fizzing action releases the zesty and citrusy scent, enveloping your senses in a refreshing and rejuvenating aroma that will uplift your mood and brighten your day.
Our bath bomb is made with natural and high-quality ingredients, such as shea butter, coconut oil, and epsom salt, that work together to nourish and hydrate your skin, leaving it feeling soft, smooth, and rejuvenated.
Sunshine bath bomb is perfect for anyone who loves the bright and zesty citrus aroma of grapefruit and tangerine, creating a unique and refreshing experience. It's an ideal gift for yourself or your loved ones who enjoy a luxurious and invigorating bath time.
Each bath bomb is handmade with care, making them unique and extra special. So indulge in the refreshing and rejuvenating aroma of Sunshine bath bomb, and let your senses take you on a journey of relaxation and rejuvenation, surrounded by the bright and zesty citrus aroma of grapefruit and tangerine.
Our bath bombs are made with high-quality ingredients, including Baking soda, citric acid, sunflower oil, organic shea butter, sea salt, fragrance, colorant, glitter, sprinkles. These ingredients work together to provide a luxurious and relaxing bath experience.
4.5oz