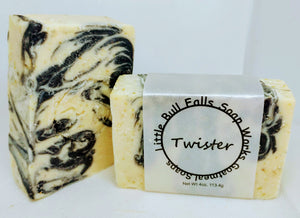 Twister Goat Milk Soap
We get a lot of tornados here in the midwest!
Sophisticated notes of black peppercorn and leather are carefully crafted with warm woods, patchouli, musk and citrus.
Ingredients: Organic olive oil, goat milk, organic coconut oil, organic & sustainable palm oil, sodium hydroxide, oatmeal, mineral pigments, cosmetic mica, fragrance.
Soap may or may not look exactly like the picture. Because of the handmade nature of my items – temperatures, moisture, colorants, etc all factor in to making the soap look a certain way. That is the fun part of this…you never really know what its going to look like until you cut it!
Packaging is in a bridal quality platinum vellum cigar band. We try to be environmentally conscious and eliminate as much waste & plastic as we can!
4oz bar