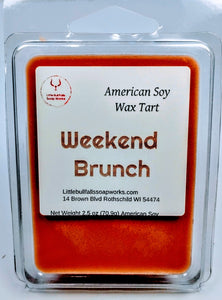 Weekend Brunch Soy Wax Melt
Like our candles, our wax melts are made from soy wax that is made from soybeans that are grown right here in the midwest of the United States.
Smells like a big fancy breakfast brunch. Melted Butter, Crisp Bacon, Cinnamon Spice, Ground Nutmeg, Clove Leaves, Maple Syrup, Pie Crust, Vanilla Sugar.
2.5oz of wax in a clamshell. These can be used in both electric & tea-light wax melters.