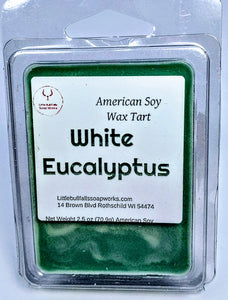 White Eucalyptus Soy Wax Melt
Like our candles, our wax melts are made from soy wax that is made from soybeans that are grown right here in the midwest of the United States.
 This scent hones in on the desire to seek tranquility in a natural setting. There's no better way to experience peace of mind than surrounding yourself with nature. Cooling & aromatic...this is a perfect spa scent. Freshness with added tranquility. 
We also offer this scent in a bar soap! A very unique wax melt!