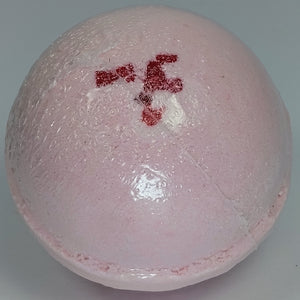 Wild Cherry Bath Bomb
Introducing our handmade bath bomb that will transport you to a world of sweet and juicy wild cherries! Our bath bomb is lovingly crafted with natural and high-quality ingredients to provide you with a luxurious bathing experience.
As you drop the bath bomb into your tub, you'll notice a burst of vibrant colors and swirling patterns, creating a mesmerizing display. The fizzing action releases a rich aroma of wild cherries, filling your senses with a delightful fruity fragrance.
But this bath bomb is more than just a treat for your nose - it also works wonders for your skin. 
Our bath bomb is perfect for anyone looking to add some fun and relaxation to their bathing routine. It makes a great gift for yourself or your loved ones who need some pampering. Plus, since it's handmade with care, each bath bomb is unique, making your experience extra special.
Treat yourself to the sweet scent of wild cherries with our handmade bath bomb, and let your worries fade away.
Our bath bombs are made with high-quality ingredients, including Sodium Bicarbonate, Citric Acid, Fragrance Oil, Sunflower Oil, FD&C Colorant, and Cosmetic Glitter. These ingredients work together to provide a luxurious and relaxing bath experience.
So, if you're looking for a bath bomb that will provide a heavenly scent and relaxing fizz, give our Toasted Almond and Coconut scented bath bomb a try!
4.5oz