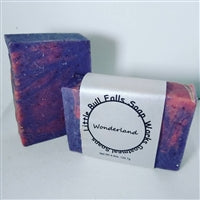 Wonderland Goat Milk Soap
D o you walk with the fairies and are more on the magical side? Try our Wonderland soap. Open the garden gate to find all of your fae friends dancing in the moonlight & feasting upon sweet, ripe fruit.

This is a flirty fusion of luscious strawberry, wild goji berry, ripe raspberry, gardenia petals, frosted jasmine, peach nectar, white amber, coconut musk, & creamy vanilla. Yhea, many things went into my cauldron to bring this magical concoction together and you will LOVE it!
Fragrance Type: Fruity Floral
Fragrance Strength: Medium

Ingredients: Organic olive oil, goat milk, organic coconut oil, organic & sustainable palm oil, sodium hydroxide, oatmeal, mineral pigments, cosmetic mica, fragrance.
Soap may or may not look exactly like the picture. Because of the handmade nature of my items – temperatures, moisture, colorants, etc all factor in to making the soap look a certain way. That is the fun part of this…you never really know what its going to look like until you cut it!
Packaging is in a bridal quality platinum vellum cigar band. We try to be environmentally conscious and eliminate as much waste & plastic as we can!
4oz bar