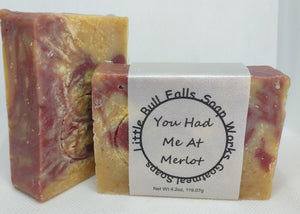 You Had Me At Merlot Goat Milk Soap
Brought back out of retirement after tons of requests. No you will not smell like a bottle of booze. This smells complex...red wine and oak barrel.
A blend of the rich sweetness of cherry and crisp plum.
 There are so many soaps & body washes on the market – do you know what makes us special?
We only use food-grade organic oils & butters
Skin-softening & nourishing goat milk
Skin-soothing & exfoliating oatmeal
Hand poured in small batches
Fresh & wholesome ingredients
Fully cured soap = long-lasting
If you have dry or sensitive skin, you need to give us a try!
Ingredients: Organic olive oil, goat milk, organic coconut oil, organic & sustainable palm oil, sodium hydroxide, oatmeal, mineral pigments, cosmetic mica, fragrance.
Soap may or may not look exactly like the picture. Because of the handmade nature of my items – temperatures, moisture, colorants, etc all factor in to making the soap look a certain way. That is the fun part of this…you never really know what its going to look like until you cut it!
Packaging is in a bridal quality platinum vellum cigar band. We try to be environmentally conscious and eliminate as much waste & plastic as we can!
4oz bar